VETS:
George Hnatkiwskyj BVSc MRCVS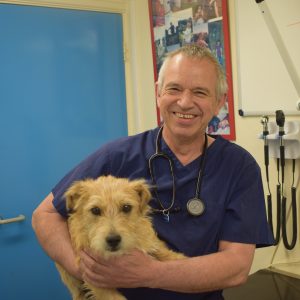 George qualified from Bristol University in 1982 and has continued to work in mixed practice ever since.
He started the practice in 1993 as a one man surgery in the centre of Northiam and it has steadily grown into its current four vet team on the rye side of the village. He still has a keen interest in large animal work but now also enjoys his small animal surgery especially repairing fractures and torn cruciate liagments.
In his spare time George enjoys a host of hair raising activities such as skiing, mountain biking and rock climbing.
---
Henry Fryzer MA Cantab VetMB MRCVS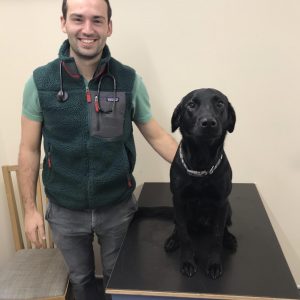 Henry joined Badgers Oak in Summer 2019 after spending many of his student placements with us.
When not working he can be found walking his Labrador Alma or racing in a triathlon. He is currently training for Ironman UK in July.
---
Charlotte Gray MA VetMB MRCVS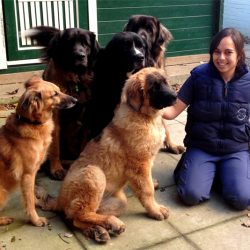 Charley qualified from Cambridge University in 2009 and quickly started work at Badgers Oak. She has become very involved in the local area and now has her own pig farm in Beckley village rearing free range pork.
In the practice she loves seeing our small furry patients and doing small intricate surgeries!
Outside of work she is kept busy looking after her little girl Robin and  10 dogs – Harry the collie, Maddie the lurcher, Alan the Rottweiler, Norman the Bernese/Newfoundland cross, Tinks, Rodney and Nessa the Leonbergers, Joan the bulldog and Frank and Betty the German shepherds. Plus she also has 9 cats! – Brian, Tim, Stanley, Arthur, Felix, Paul, Kevin, Alfred, and Bogey.
---
Lauren Sainsbury BVetMed MRCVS
Lauren qualified from the Royal Veterinary College in 2012 having spent many of her clinical student years with us. She then took a permanent position at the practice in February 2013 and enjoys working with the full variety of species at Badger's Oak.
Since joining the practice Lauren has taken on a hyperactive rescue springer spaniel called Flint and a Labrador called Polo. She is now also running around after her little girl Pippa.
---
Lily Wilson BVetMed BSc(Hons) MRCVS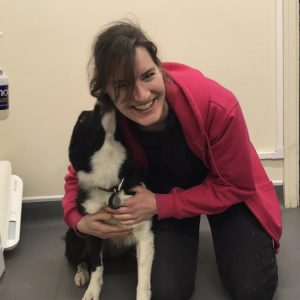 Lily qualified from the Royal Veterinary College in 2016 and joined our team in August 2017. She has a keen interest in large animal work especially herd health planning and preventative medicine.
In her spare time she rides her 2 horses Beau and Pepper and walks her Border Collie Dash.
---
---
OUR NURSES:
Stefanie Georgetti RVN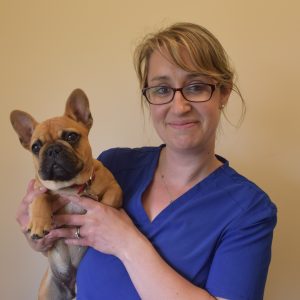 Stef started her training at the practice in 2002 and has stayed ever since she qualified. She now works 2 days a week, spending the rest of the time bringing up her 2 children Harry and Grace on the family farm.
She has a keen interest in Middle white pigs,  and can often be found camera in hand practising her photography skills.
---
Stephanie Hobbs RVN
Steph has been a Veterinary Nurse at Badgers Oak since 2006 after moving to Beckley with her daughter Scarlett.
She has a pomeranian cross called Butler, and a Shih-tzu cross called Olive.
She is involved with all species in the practice but particularly enjoys nursing small furries and some of our feisty felines! She recently completed a CEVA Nursing behaviour course and has an interest in surgery having under taken some additional training in this area. 
---
Jennifer Schofield-Davis RVN
Jenny joined the team shortly after completing her veterinary nursing qualification in 2013. She moved to the area from London and now lives with her son Frank, daughter Florence, Cat Stamford and 2 rabbits Felix and Bridget.
She really enjoys the large animal work especially helping with colt castrates and being involved in the clinical coaching of student nurses. 
In her spare time she can be found screaming in the stands supporting Chelsea football team. 
---
Will Hnatkiwskyj RVN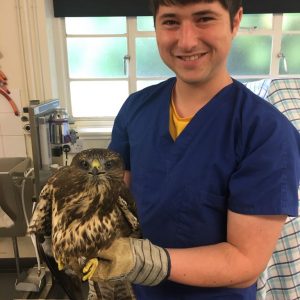 Will, George's eldest son, moved from Devon in 2013 to help out in the practice. He quickly developed an interest in veterinary nursing and qualified as a veterinary nurse in 2018.
He is especially interested in radiography and loves large animal work.
He has a giant breed dog called Heidi and is always first to volunteer to help with dogs of the humongous variety!
---
Sarah Sheppard RVN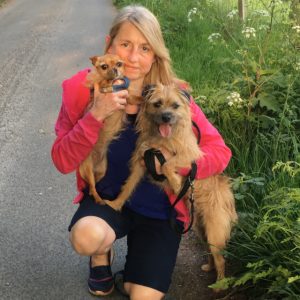 Sarah joined the practice in 2017 after some time away from nursing to bring up her 3 children.
She is getting to grips with everything in the practice and loves looking after our elderly patients. In her spare time she can be found walking her 3 dogs Arthur, Mary and Otis.
---
Jemma Watkins – Trainee Veterinary Nurse
Jemma is the newest member of our team, having joined us in July 2018 as a trainee nurse – but as she has been doing work experience with us now and then over the last 5 years, she knows her way around very well!
In her spare time Jemma loves doing agility and training with her border collie Max!
---
---
OUR ADMINISTRATORS:
Candy Pearce
Candy started work here in 2007 as a receptionist and has since taken on a much more managerial role. She previously worked at Mallydams wildlife rehabilitation centre and always knows what to do when people bring us wildlife in trouble.
She has three children: Conor, Noah and Stanley as well as a cavachon called Ted and a collie called Mollie.
---
Claire Valentine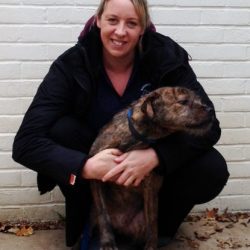 Claire has worked at Badgers Oak for over 15 years and is a qualified Veterinary Nurse, who now works mainly as a receptionist and administrator.
She lives with her three children and her dog Woody, a rescued Staffie cross.
Baking is her passion and she often spoils us with her latest masterpiece.
---
Sam Foreman SQP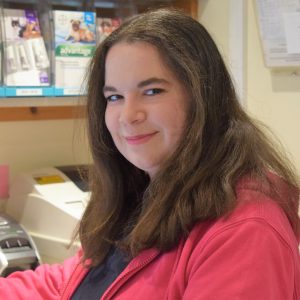 Sam started as a receptionist in 2014 after previously doing dog agility training and pet sitting.
She has 2 spaniels called Meg and Tia. Tia often comes to work with Sam and can be seen running around in the courtyard.
---